"

"The Variations lesson is packed with challenging goodness. Chris has a reasoned, thoughtful approach - very clear and well laid out. When I return to the material, I keep finding nuggets of helpful wisdom. Thanks!" - Chris Hunt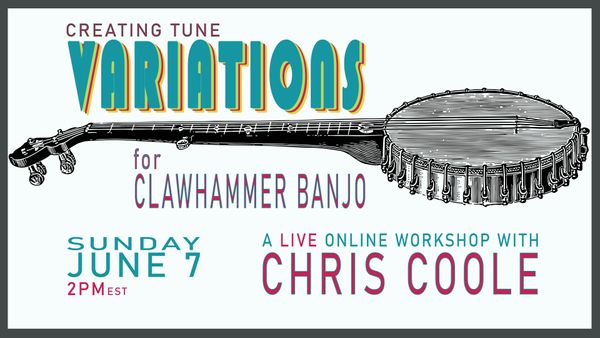 PROVIDED WITH THE PURCHASE OF THIS WORKSHOP
- a pre-workshop tune (tab and video) to learn 
- access to video of the Zoom workshop as it went down live on June 7/2020
- an 11 page written overview of the topic (including tab examples)
- Video examples of whatever is tabbed out 
Creating Tune Variations – The First Step to Improvising (see bottom of the page for skill level)
Workshop Description - 

I hate when people say that there's no improvising in old-time music; there is, it's just more subtle and melody-based than what goes on in bluegrass – it tends to be about phrasing as opposed to scales or licks - saying the same thing in a slightly different way. 
One of the most common things I hear from people at workshops is that, once they learn a tune, they tend to play it the same way over and over. They wish they could change it up, but don't know how to make the jump. Sometimes the problem is that they are trying to re-invent the wheel when they should be paying more attention, and giving greater value to smaller details.
In this workshop, we'll look at four specific "paths" you can take which will help make you more aware of those small details which, added up, make a big difference in your ability to be more inventive and free in your playing. You'll learn how to come up with your own variations of the tunes you know,  and get "unstuck" from tunes you've played the same way for years. When paired with good listening, the development of these skills will help you be more "in the moment", and "present" when you play music in all settings. 
Taking the workshop
Before you watch the workshop video, you will learn a tabbed version of "Rock the Cradle Joe" that will be used as the starting point. 
The workshop is about 2 hours. I introduce 4 approaches you can take to create tune variations and show you how ways that each of those approaches could be applied to Rock the Cradle Joe. 
After the workshop, you can work through the written overview/tab and hopefully start applying the principles to your playing. 
"I've been working on playing by ear and adaptIng my repertoire for a variety of situations including playing solo, in duets, and also at jam sessions.  This workshop helped me on so many levels and gave me the confidence and the skills to tackle any new tune I want to learn, and how to more fully express myself with the tunes I already know.  Chris is an awesome teacher who presents things in a well-organized way with lots of supporting materials... I highly recommend this workshop!"   
- 

Colin Field

  
Skill Level - From my experience at the camps I've taught at, I'd call this workshop Intermediate/Advanced. As far as technical skill, if you can do the basic strum, double thumbing, and drop thumbing, there won't be anything shown that is beyond your scope. This isn't about showing you a complicated tune that you'll spend a month sweating over and memorizing - it's about looking at some concepts and a plan for their application to your music. Even my "advanced" teaching tends to be heavily focused on fundamentals (and, I'd like to think musicality). As I see it, there's a lot of people that, while able to play fairly complicated arrangements (often learned from tablature), don't really know how they got there, and can't expand on, or apply what they've learned to other things. I've had students who've felt that my "advanced" teaching is too simple. I definitely subscribe to the principle that "art is subtraction", so the longer I play, the simpler my playing gets...and that is reflected in my teaching style and it's content. It won't be for everyone, but I sure hope it works for you. 
Let me know if you have any questions - click here to contact me via email
Workshop - Creating Tune Variations
I will email you a link to a download page where you can access the workshop and all support material
Read more…